VJ software, such as VDMX, has a number of FX that can be applied to layers in real time. In this tutorial, I'll demonstrate a way to integrate Snap Camera's Lenses into your next performance.
SnapChat's face tracking is impressive. Some of my experiments yielded photorealistic results, while others — not so much, but they're fun, and the quality of the filter is up to the lenses creator (link to the creators below).
Look at the way this mustache handles the light in the Maroon 5 video:
---
Preface (my rant):
I'm writing this hoping SnapChat will make this easier in the future, a simple update to their SnapCamera.plugin or the addition of Syphon for Mac and Spout for Windows would allow more versatility for live performers to use their lenses during performances, and (most likely) have the desire to create new lenses of their own.
If people are interested, I'll try to make a windows version, but it would be easier if SnapChat supported Spout for windows. (fingers crossed). Here's where you can spam them and request support: SnapChat Forums
---
Caviates:
As of right now, the Snap Camera.plugin only outputs to certain applications (Zoom, OBS, etc.) it does not output to QuickTime Player, MadMapper, or VDMX (to name a few). I hope Snap will remove these limitations, but I have my doubts.
The latest version of OBS studio includes the Virtual Webcam Plugin. Unfortunately, the latest version does not appear to work with TroikaTronix's "Syphon Virtual Webcam" which we'll need for this tutorial.
This will require OSX 10.13+
If you have Logitech's LogiCapture.plugin installed, Snap Camera may not appear in your list of virtual web cameras (in Zoom, OBS, etc.) — This is something Snap will have to address / fix, but it should not affect this setup.
---
What you'll need:
Syphon Virtual Web Camera (free)
Snap Camera for Mac (free) (OSX 10.13+)
VDMX (free/paid)
You do not need to own VDMX to do this. VIDVOX, the makers of VDMX have a fully functioning demo (no watermarks, time limits etc.), the only limitation is you cannot save your VDMX project. It's a brilliant piece of software, with an innovative community.
---
1. Download and install Syphon Virtual Web Camera:
https://troikatronix.com/add-ons/syphon-virtual-webcam/
If you have a newer version of OBS installed, you may have to delete the current obs-mac-virtualcam.plugin and replace it with version 1.3.0
You can download 1.3.0 here: https://github.com/johnboiles/obs-mac-virtualcam/releases/download/v1.3.0/obs-mac-virtualcam-637745c-v1.3.0.pkg.
Remove previous ons-mac-virtualcam.plugin from here: /Library/CoreMediaIO/Plug-Ins/DAL
---
2. Download and install Snap Camera for Mac:
https://snapcamera.snapchat.com/
---
3. Install VDMX:
macOS 10.15 and later
Recommended for macOS 10.15 (Catalina), macOS 11 (Big Sur), macOS 12 (Monterey), and later.
Download VDMX5 latest release: VDMX5
macOS 10.12 / macOS 10.13 / macOS 10.14
Recommended for macOS 10.12 (Sierra), macOS 10.13 (High Sierra), macOS 10.14 (Mojave).
Download VDMX5 b8.7.2.4: VDMX5 b8.7.2.4
---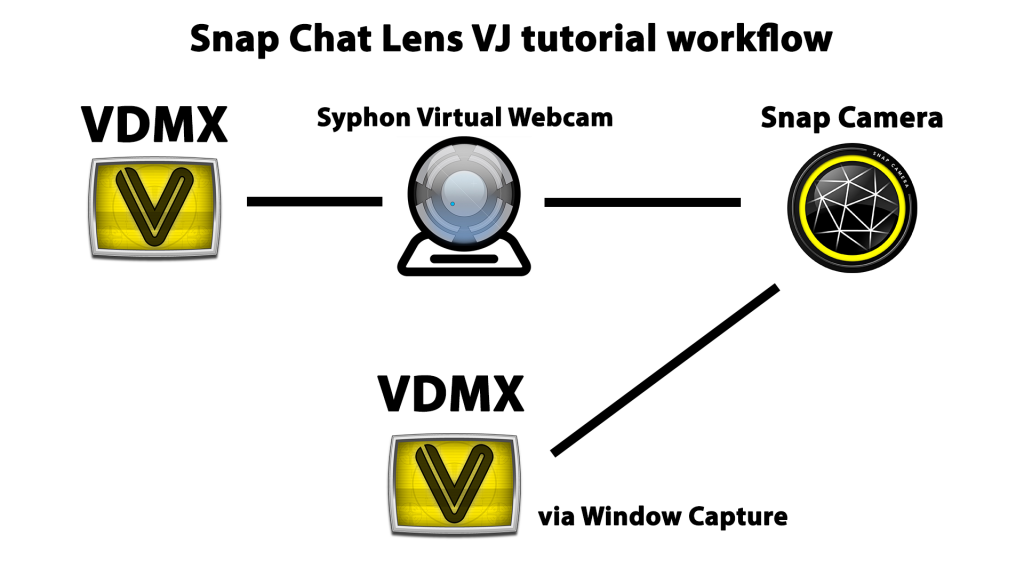 If you've never used VDMX before, watch the tutorial.
---
Video tutorial:
---
Depending on the lens you use, the results can vary: A less bushy Kate Bush, perhaps?
---
Drake and Justin Bieber!
---
Fred's Sexy Shirt!?
---
Let's not get political with this one, but it's pretty easy since most politicians and news anchors face front and center!
---
---
Nickleback makes sense to me:
---
Thank you for stopping by. I'll let Nick Cage take this one home.
References:
Here are some of the Snap lenses and their creators. It's hard to say who the original creator is, there are many that seem to be similar.